REEVES, JH
[The following information is derived from the Personnel File for John Herbert Reeves, held by Archives New Zealand.]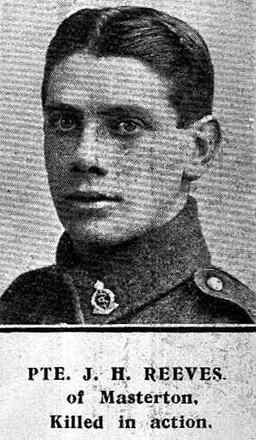 John Herbert Reeves' History Sheet lists his occupation as Billiard Marker, employed by "Committee, Masterton Club", which was also his last NZ Address. This Sheet covers the period 10 August 1914 to 22 March 1915, during which period he served in Samoa.
A second History Sheet gives his occupation as Steward, and his last employer as "Manager, Wellington Club", which was also his last address. It says he was born 9 June 1893 at Portsmouth, and gives his religious profession as Church of England. His next-of-kin is cited as his sister, Mrs M. Joy, of the Exchange Buildings, Pownall Street, Masterton. He was assigned the Regimental / Service Number 3/1083.
His physical description in 1914 was as follows: Age - 21 years; height - 5 foot 5 1/2 inches; weight - 8 stone 8 lbs; chest measurements - 32 - 36 inches; Fair complexion and hair, with Grey eyes. The rest of the measurements (vision, hearing, medical history, etc. were clearly satisfactory.
Reeves had 2 periods of army service in World War 1. The first dates from 10 August 1914 and lasted until he was discharged "at own request" on 22 March 1915. He served the first 5 days in NZ, and was then sent to Samoa where he stayed until his 'discharge'.
It appears he then re-enlisted on 10 August 1915, and was shortly thereafter sent to Egypt, where he disembarked at Suez on 18 November 1915.
On 29 November 1915 at Zeitoun he joined No. 2 Field Ambulance, with whom he marched out to Moascar on 5 February 1916. He continued training there until he embarked on the Ascania at Alexandria for France on 6 April 1916.
He was appointed Cook on 1 September 1916 'In the Field'. On 4 December 1916 he was admitted to No 2 Field Ambulance and a day to Hospital, sick with Influenza. He rejoined his unit (No 2 Field Ambulance) on 9 December 1916.
On 12 May 1917 he was temporarily detached to II Army Cookery School, from which he returned on 3 June 1917.
On 12 August 1917 he relinguished his appointment as Cook, and that same date he was Killed in Action. The Remarks accompanying this entry indicate GSW [gun shot wounds?] Abdomen, Chest, Legs.
He was awarded the 1914-15 Star, the British War Medal and the Victory Medal, which on 26 October 1923, were sent to his sister, Mrs M. Joy, of Masterton.
His record says he was buried at Pont D'Achelles Military Cemetery, 2 miles north-east of Steenwerck, and 3 miles north-west of Armentieres. [ ]
The Commonwealth War Graves Commission record for: Reeves, John Herbert.
The Commonwealth War Graves Commission description of and location map for Pont D'Achelles Military Cemetery.
Images:


Photos courtesy of The Commonwealth War Graves Commission
See also Auckland Museum's Online Cenotaph for more details.