JOYNT, WJ
[The following information is derived from the Personnel File for William John Joynt, held by Archives New Zealand.]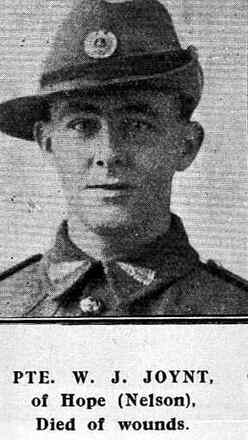 William John Joynt was just 20years old when he enlisted, on 15 January, 1915. He had been born on the 15 October, 1894, at Staveley, Ashburton (near Mount Somers). Hi Attestion Form gives his occupation as Bank Clerk, employed by the Bank of Australasia, and his last address was the Somerset Hotel, Ashburton. He had passed the Fourth Educational Standard.
He was single, and had never been imprisoned. He was a member of the Territorials, having just transferred from the Junior Cadets. His father, John William Joynt, of Hope, Nelson, is listed as next-of-kin.
Physically, he was listed as 5 foot 8 inches (816 cm), and weighed 133lbs (60.3 kg). His chest measurements were 33 to 37 inches; his complexion was 'Fair', his eyes Grey, and hair Brown.
His Religious profession was Church of England.
Against the other measures, he was either Normal of Good, and so classed Fit.
He was issued the Regimental / Service Number 6/1892. His service dated from 15 January, 1915, and he was in Camp in New Zealand until 17 April 1915, when he left for Egypt.
He joined his Battalion at Dardanelles on 8 June 1915, but on 14 July his record says "To Hospital (sick)"; two days later, on 16 July, he is admitted and transferred to Base at Mudros, with "Diarrhorea & Teeth". By 20 July 1915 he was admitted to "St Georges' Hospital at Malta, now with 'Dyspepsia'. A month later, on 15 August he was transferred again to St Patrick's Hospital, and then on 1 September to Ghain Tuffhia, which appears to have been a convalescent camp on Malta. But then on 25 September he was admitted to a Military Hospital at Dundee with "Gastritis & Denture". His condition evidently improved because on 11 January 1916 he was admitted to NZ Base Depot, Grey Towers (an alternate name for New Zealand Convalescent Hospital, Hornchurch).
His recovery continued apace, albeit not without incident. It seems he was Absent Without Leave until apprehended by Military Police, perhaps in Romford, and then "breaking away" from them while being brought to Camp, and "Breaking into Camp"! For this he was awarded 3 days Confined to Barracks; it is unclear if he was awarded the same punishment once or twice. Then on 18 February 1916 he was Absent from Roll Call, perhaps for 2 days, for which he was awarded 14 days detention, Confined to Barracks.
On 13 March 1916 he Rejoined his Unit at Ismailia (Egypt). On that date he was Transferred from 1st Battalion Canterbury Regiment to No 2 NZ Field Ambulance at Moascar.
On 6 April 1916 he embarked for France at Alexandria.
On 12 June 1916 he was Detached to 3rd Brigade, NZ Field Artillery at Armentieres, with whom he served until he rejoined No2 Field Ambulance on 20 November. Then on 25 January 1917 he was Detached to 1st Battalion, Otago Infantry Regiment.
Then came the latest in a series of infractions of military discipline: on 9 April 1917 he was awarded 28 days Field Punishment No 2 and forfeiture of 4 days pay for being Absent Without Leave, it appears for 4 days.
He rejoined No 2 Field Ambulance on 27 June 1917, but then on 21 August he was Detached on Leave (to UK), from which he returned on 7 September 1917.
He was Wounded in Action on 12 October 1917. That same day he was transferred to the 10th and then the 17th Casualty Clearing Station. Two days later (14 October 1917), he Died of Wounds (G.S.W. abdomen, arm, hand) at 17th Casualty Clearing Station.
He was buried at Lijssenthoek Military Cemetery, 1 3/4 miles S.W. of Poperinghe on 14 October 1917.
In 1921 & 1922, his father was sent the Scroll & Plaque which his service entitled him to receive, in addition to the 1914-15 Star, the British War Medal, and the Victory Medal.
The Commonwealth War Graves Commission record for: Joynt, WWilliam John.
The Commonwealth War Graves Commission description of and location map for Lijssenthoek Military Cemetery.
Images:


Photos courtesy of The Commonwealth War Graves Commission.
See also Auckland Museum's Online Cenotaph for more details.