STEANS, William
[The following information is derived from the Personnel File for William Steans, held by Archives New Zealand.]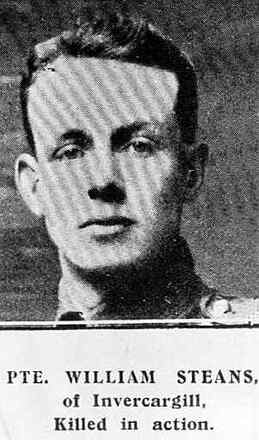 William Steans was born 8 December, 1894, so on his Attestation Form, dated 20 October, 1915, he is listed as 20years 8 months old.
On that form he gives his birth-place as Invercargill, and occupation as "Dentist", employed by Smith & Butler of Invercargill. He gave his address as Kelvin Road, Invercargill.
He had passed the Fourth Educational Standard, was not married, and had never been imprisoned. He was a member of "C Battery" and was still serving.
He cited his father, Arthur Steans, of Kelvin Street, Invercargill, as his next-of-kin.
Physically, he was recorded as being 5ft 7in (170cm) tall , weighing 124 lbs (56.25Kg), with chest measurements of 29 1/2 to 32 1/2inches. He had fair complexion, "greyish blue" eyes, and fair hair.
On all other elements of his physical examination he was 'normal'.
He was an Anglican.
His service dated from 19 October 1915, on which date he joined the Field Artillery with the rank of Gunner. He served in New Zealand 8 January, 1916, and then in 'Foreign' locales. He was assigned the Service / Regimental Number 2/2725.
He disembarked at Suez 14 February, 1916, and then Embarked for France per the Elise at Alexandria on 7 April, 1916. He was by this time part of the 5th Battery.
He was Killed in Action at Armentieres on 2 June 1916, and buried in Cite Bonjean Cemetery, Armentieres. The Officiating Chaplain was Rev. J.A. McKenzie, who was at the time attached to the 3rd NZ Rifle Brigade.
He was eligible for the British War Medal and the Victory Medal. His record indicates that his medals were to go to Mr A Steans, PO Box 158, Invercargill. Curiously, however, an addendum indicates they were "To hold in trust for soldier's son, R.B. Steans who is a minor".
A search of Birth records indicates a Reginald Barham Steans was born in 1904 to Blanch Louisa and Arthur Steans. William would have been aged 10 at that date.
The Commonwealth War Graves Commission record for: Steans, William.
The Commonwealth War Graves Commission description of and location map for Cite Bonjean Cemetery, Armentieres
images:


Photos courtesy of The Commonwealth War Graves Commission.
See also Auckland Museum's Online Cenotaph for more details.